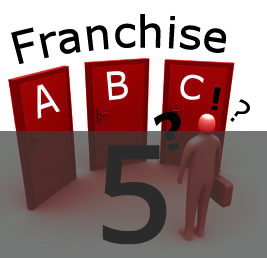 You run a business, which is growing and doing well for you. You've always wanted to expand your business to multiple cities/countries and you are waiting for the right time. In short, you are looking towards franchising your business.
Just like marriage, franchising your business isn't something that you should speed into. This is because, it's a lifetime decision and with a lot of business owners failing to do it by obviously going about it the wrong way, it's really important for you to do your research, in order to franchise your brand properly.
There is a lot of legal stuff that goes into becoming a franchisor, such as getting the legal paperwork done, scrutinizing the trustworthy franchisees, scheduling royalty payments and not to forget various other challenges that you would have to face as you move through the entire process. However, this doesn't mean that the idea of franchising for your business is all wrong, in fact if done the right way, your business can become the next big brand like KFC or MacDonald. The question is what should you do and how you should go about the entire franchising process for your business?
Given below are the 5 essential questions you must ask to become a franchisor:
What resources to look into as a beginner?
According to Joel Libava, a franchise adviser and author of becoming a Franchise owner (Wiley, 2011) , based in Cleveland, recommends that you research the appropriate franchise development company or consultants, who are experienced in offering franchise consultation services to the interested businesses. They would set you up on the right track, and can also in fact pair you with the potential franchises when the time is right for you.
However, you need to remember that these professionals would charge a high fee, around $50,000 to $100,000 or even more.
The IFA (International Franchise Association) is also quite useful for getting up to speed on franchising, as it offers a handful of free and fee-based education resources.
What is the estimated startup costs required?
The startup costs can range between $100,000 to $150,000 and even more, costing you the amount of marketing, legal and operation procedures for only launching your Franchise from Day 1. You cannot cut financial corners, if you are to succeed and turn your great business into a great franchise for yourself.
After the initial payments, you are required to pay the professional consultation fees, franchise location design, equipment, and construction. Initial inventory and insurance costs come next. This means that your expense list would continue to become bigger as you move through the franchising process.
How much of Franchise Royalty Payment Should I Charge?
Well, this depends on how much money you'll be earning from franchising. In a majority of the cases, there is a pre-agreed rate cut of the gross sales, between 4% to 6%. However, there are some cases, in which the royalty rate is as high as 25%. According to Libava, a 5% rate is quite normal to charge for licensing the opportunity to use your brand and everything it entails.
The Royalty percentages are collected on a monthly basis, along with a one-time franchise fee, which is usually between $30,000 to $35,000. The fee includes the cost of purchasing a license and the cost of entry in order to operate a business. For the advanced master franchises and developmental deals, it can exceed $100,000.
How much will I make?
There is no exact number as an answer to this question. This usually depends on the profit margins and how successful your franchise business really becomes. However, to make your confusions clear, Libava gives this perfect example," If you are a franchisor with 500 franchises, each of who own a store, that makes $500,000 on a yearly basis in gross sales, and you are charging 5% royalty fee from each of those franchise every year then, you would get $25,000 a year multiplied by the 500 franchises. It becomes $12.5 million, a good enough amount really."
What basic legal considerations do I need to be aware of?
Well, franchising a business requires a lot of complicated legal issues to deal with in the first place. This is why; the best way for solving all the legal issues is to get consulting with an experienced attorney, who has expertise in the franchise law. You also need to keep in mind that certain states have registration laws that you need to abide by to have your business franchised the legal way.